If you're looking for a full-on wild west experience right in Bremen, Georgia, there's no place better than the Rocky Branch Ghost Town. Though this park is known for its use in TV and film productions, it also serves as a fun, family-friendly park full of western-themed abandons. So, saddle up and get ready to have an uproarious time on the ranch.

Everyone Say Yeehaw!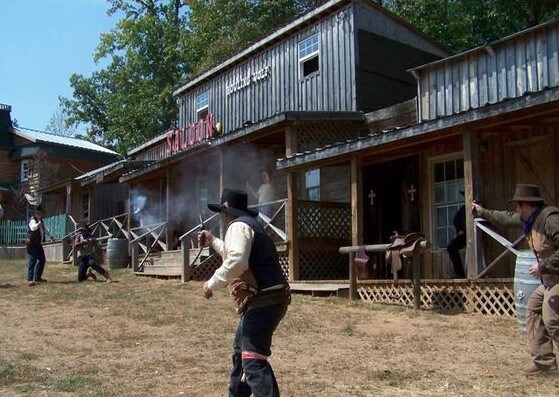 At Rocky Branch Ghost Town, you'll find everything you need to believe you were actually in a small old-west town. After you grab your cowboy hat and settle in, take part in the family-favorite hayride. This is a great way to see the park as it loops the town and nearby wooded area. Make sure to tighten that grip on your gold satchel though. You might end up being bushwacked by those darn bandits.
During festival and events, you can also catch the famous cowboy show. Will the saloon get held up by a bunch of yellow-bellied robbers? Will there be a shootout in the middle in of town? You'll have to watch to find out.
Get Yer Boots Scared Off
Every October, Rocky Branch transform into a ghoulish setting providing you with the ultimate western ghost town experience. Jump aboard the Halloween Hayride which takes you on an eerie trip down dark and isolated trails where you can you might be able to spot creatures lurking in the shadows. You'll then pass by Dead Woods Cemetery with fresh graves that will surely give you the frights.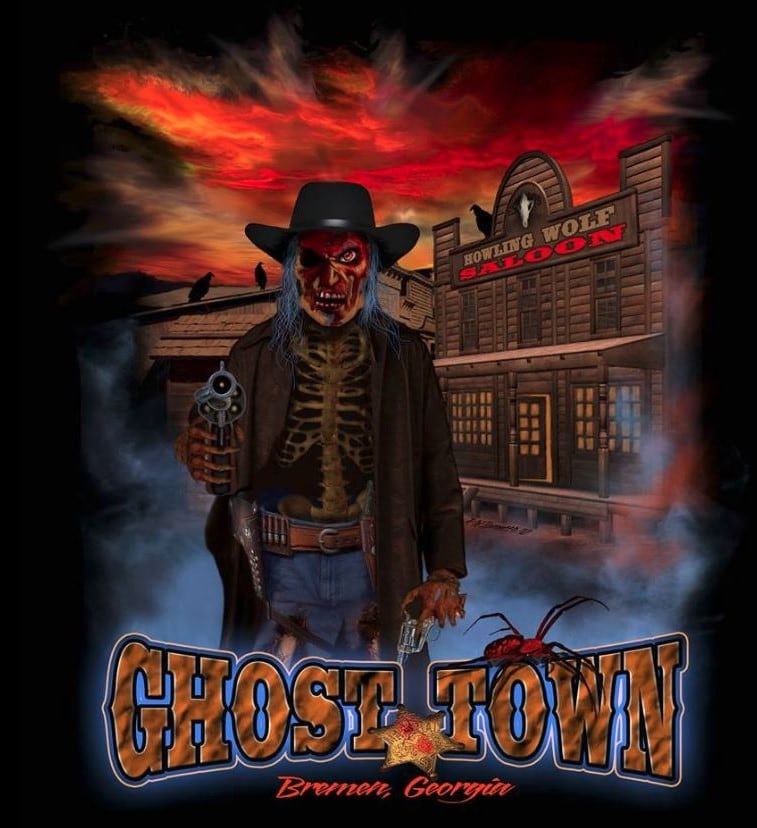 You'll also catch some hysterical hijinks as you pass through the Hillbilly Brewery. Watch these bumbling fellows brew their moonshine in Possum Squat County but be careful. They don't take too kindly to strangers.

Other Ghost Town Attractions Include
Haunted Mine - Wind through a dark maze with spooky surprises.
Funeral Parlor - Enter the ghost town mansion and give your sympathies to the recently deceased.
Devil's Playground - Scary adventure awaits you in this playground but use caution, your guide is the only one who knows the way out!
Monsters of Hollywood - See all of your favorites here and take a picture to remember your terrifying ghost town exploit. You'll even see a gun-toting zombie!
Wild West Events
Looking to have a unique wedding or throw a party that no one will forget? Rocky Branch is happy to host your next event equipped with western characters and cowboys. This is perfect for family reunions, field trips, birthdays, and more. There is even Sleepy Hollow camping on-site, as well.
Pony Up & Head to Rocky Branch Ghost Town
Ready to unleash your inner cowboy? Then head on into Rocky Branch this weekend and explore what the wild west has to offer you. We know you'll be back time and time again.